Pawsome Pet Tags Craft Business
Introducing our Pawsome Pet Tags Business Craft Kit! This kit is the perfect way to inspire young entrepreneurs and animal lovers alike. Our kit includes everything needed to create 20 personalized pet tags that will help any pet stand out in a crowd.
The kit includes a variety of materials, such as shrink art and acrylic tags, stickers, markers, stencils, and glitter glue to inspire young girls to get creative and bring their ideas to life. We also include packaging materials to help young entrepreneurs sell their finished products right from their own driveway.
We believe in empowering young girls to become business owners and that's why we have included a Mighty Girl Business Plan in each kit. This plan will guide young entrepreneurs through the steps of starting their own business, including product pricing, marketing, and selling their finished product. 
With our Business in a Box Pet Tags Craft Kit, young girls will have the opportunity to develop important skills such as creativity, problem-solving, and financial literacy while having fun and making a difference in the lives of pets and their owners.
Regular price
$29.99 USD
Sale price
$24.99 USD
Unit price
per
Sale
Sold out
FREE shipping on all US orders!
What's Included?

12 Shrink Art Templates
8 Acrylic Tags
1 Permanent Marker
Colored Markers
Non-toxic decoupage glue
Paintbrush
Parchment Paper
Glitter Pens
Gemstone & Decorative Stickers
Letter and Number Stickers
20 - 1/2" diameter rings
20 Backing cards & poly bags (to sell your creations)
Mighty Girl Business Plan
Our Why

Kids Crafts™ believes every girl has the power to change the world. To us, crafts are more than beads, paint, or jewels — they're the tools that inspire girls to embrace their creativity and be whoever they want to be. 

By sharing the stories of female trailblazers, entrepreneurs, and creators we're showing the next generation of leaders that anything (and everything!) is possible.

More than just a "girl activity", Kids Crafts™ blends education, entertainment, creativity, and fun into a lifestyle brand for preteens. We build up girls by teaching them skills, helping them express themselves through art, and encouraging them to think outside of the box. 

Kids Crafts™ is a woman-owned small business and social impact is at the heart of what we do. We're proud to donate a portion of our proceeds to non-profit organizations that empower girls across the globe.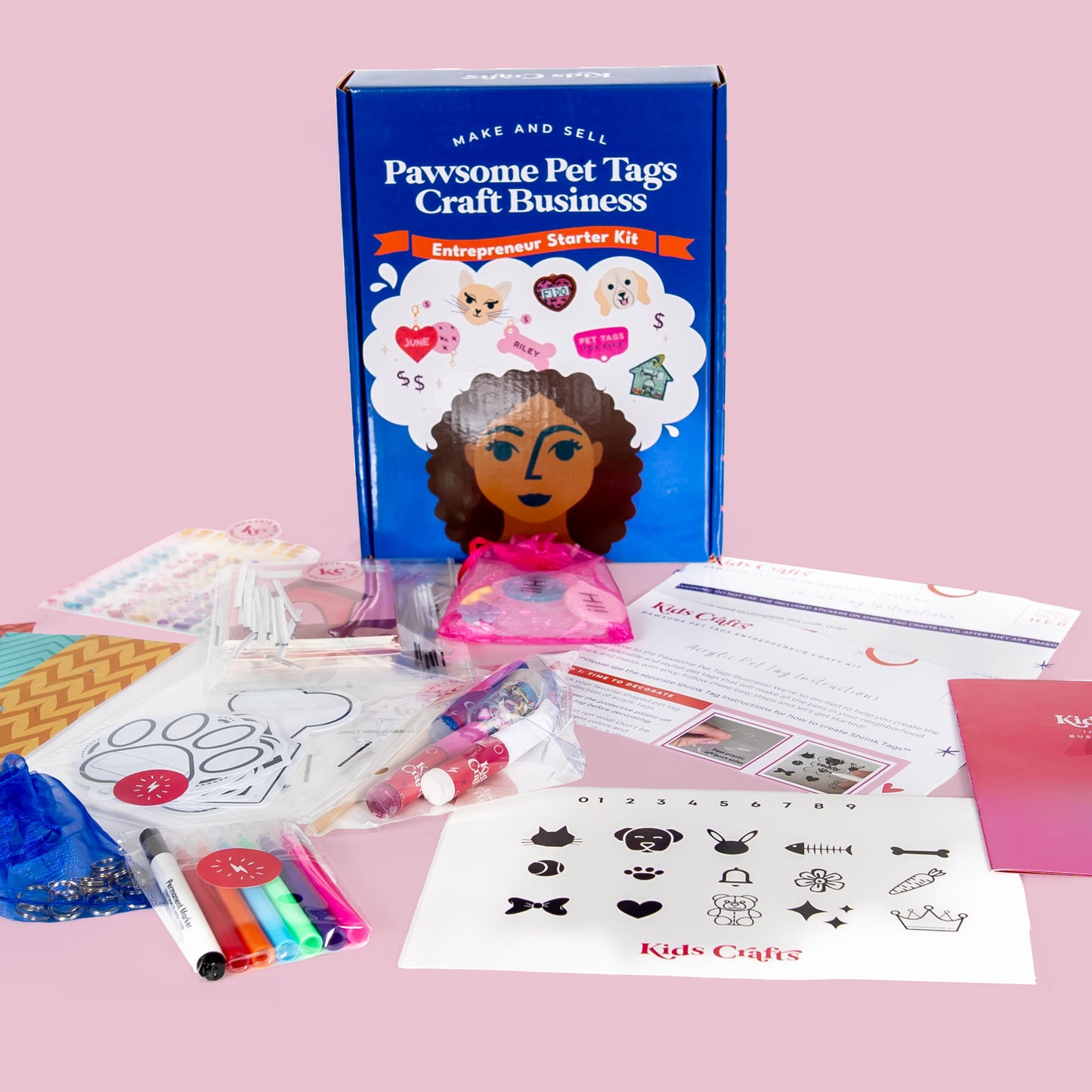 Don't just take it from us...